RECEIVE 360° CUSTOMER FEEDBACK
Customer activation
With iFeedback® you choose a integrable solution for customer feedback across all channels. Call your customers attention towards giving feedback at as many contact points as possible. Activate your customers to participate through the provision of thrilling teasers and appealing activities.
High presence on-site
You decide, how much customer feedback you receive. The more marketing material you deploy, the more customer feedback you will receive. We advise you to use stand-up displays, posters and QR-codes on the bill. Through the provision of personalized business cards you can achieve a greater bond with your customer.
Terminals for anybody
Nowadays, not every customer feedback is given via smartphone. Inspite of the increasing market penetration, not every customer owns a smartphone. Therefore, increase your customer feedback through the utilization of appealing iFeedback® terminals and set yourself apart from competitors with high quality solutions. We deliver turn-key ready 3G tablets with holder.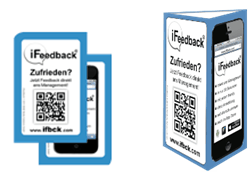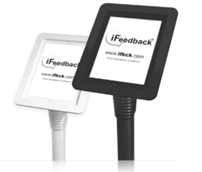 Integration off- and online
Apart from on-site customer feedback, we offer you further possibilities to generate feedback. Integrate iFeedback® on your homepage or even in mailings. Print QR-codes on documents or incorporate iFeedback® in an already existing app. You can view the source of every incoming customer feedback.
Coupons and Marketing
Reward your customers for their participation. Integrate sweepstakes or coupons (e.g. an upgrade voucher at the hotel). Your customers are delighted and will visit again. Furthermore, point your customers towards the changes, which you could attain through customer feedback. Your customers wish to be a part of your hotel and you thank them for that.